Shop by: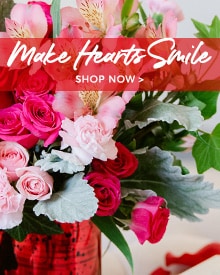 Roses
Il n'y a rien plus romantique que les roses rouges et chez Pouvoir des Fleurs in Montreal, QC, , nous avons tous les types de bouquets romantiques à choisir . Les roses ne sont pas seulement pour la Saint-Valentin; sélectionnez des roses blanches, roses ou jaunes pour faire sourire quelqu'un!
There is nothing more romantic than red roses and at Pouvoir des Fleurs in Montreal, QC, we have all types of romantic bouquets to choose from. Roses aren't just for Valentine's Day, select roses in white, pink or yellow to make someone smile!
Best Sellers Flowers
Découvrez nos fleurs les plus populaires! Pouvoir des Fleurs a un vaste assortiment de tous les types de fleurs telles que des roses, des plantes, des fleurs d'été et de printemps populaires et des fleurs modernes. Nous pouvons vous livrer le bouquet de votre choix! A Montreal, QC,! et au-delà!
Check out our most popular flowers! Pouvoir des Fleurs has a huge assortment of all types of flowers such as roses, plants, popular summer and spring flowers, and modern flowers. We can deliver any bouquet you choose to Montreal, QC and beyond!
Lavish Flowers
Épatez-les avec les fleurs de la collection somptueuse de Pouvoir des Fleurs ! Y compris quelque chose pour chaque occasion; avec de beaux bouquets d'amour et de romance, des fleurs modernes, un mariage ou pour un anniversaire, ces arrangements élégants impressionneront vraiment l'heureux destinataire. Quand seul le meilleur fera l'affaire, nous l'avons recouvert de fleurs luxuriantes et exotiques. Les bouquets luxueux de la collection somptueuse sont disponibles pour une livraison le jour même a Montreal, au Québec ou dans tout le pays.
Modern Flowers
Les compositions florales modernes font un merveilleux cadeau pour chaque occasion. Envoyez des fleurs modernes comme cadeau de remerciement, pour un anniversaire ou simplement faire sourire quelqu'un! Vous pouvez même avoir des idées modernes de fleurs de mariage! Pouvoir des Fleurs à Montreal, QC peut créer un bouquet floral contemporain pour surprendre quelqu'un à l'échelle locale ou nationale!
Plants
Avec Pouvoir des Fleurs faites un cadeau durable et abordable pour toutes les occasions. Nous avons une large sélection de tous les types de plantes, y compris les plantes d'intérieur, tropicales et d'intérieur. Nous pouvons même livrer vos plantes àMontreal,! QC ou à l'échelle nationale.
Plants from Pouvoir des Fleurs make a long lasting and affordable gift for any occasion. We have a wide selection of all types of plants including house, tropical and indoor plants. We can even deliver your plants to Montreal, QC or nationwide.